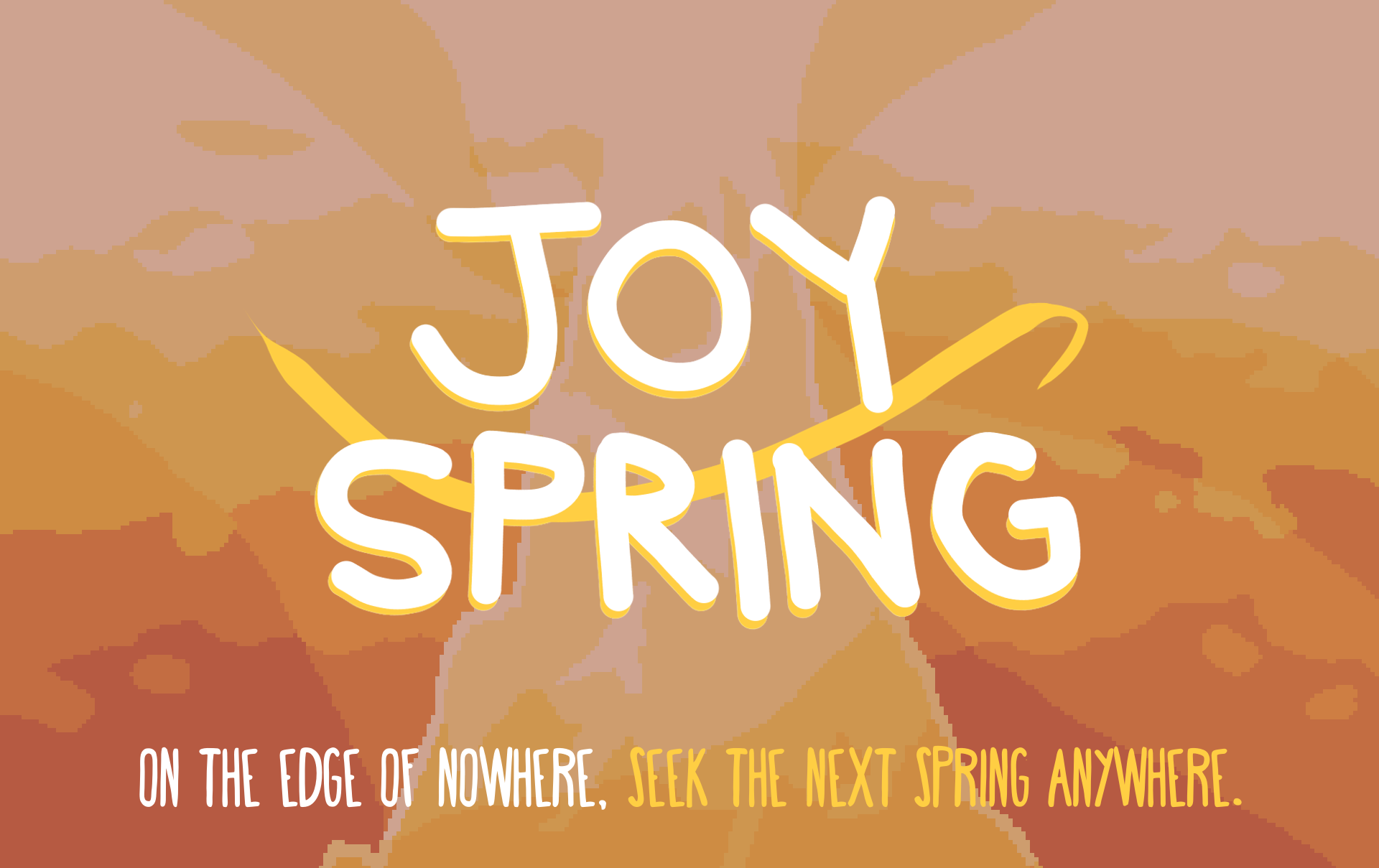 Joyspring
ASCEND the peak in search of the Joyspring. Explore every cavern and cave, crevasse and chasm. Hear the wind sing. Keep dashing and find the spring. And when you return, return smiling.
A story-driven 2D adventure that explores the strength of hope and the courage to let go

A mountaintop structured in 50 rooms full of platforming challenges that demand precision and ingenuity
Unique 2-layered platform mechanics testing problem-solving and pathfinding

Simple controls that combine in unique combos to master
Cheery tunes you can sing in the shower
A cool scarf
Also available for free on Steam.
| | |
| --- | --- |
| Status | Released |
| Rating | |
| Author | Studio Heart Engine |
| Genre | Platformer, Adventure |
| Made with | Godot, Aseprite |
| Tags | 2D, Casual, Mountains, nature, Non violent, Pixel Art, Short, Singleplayer, Story Rich |
| Average session | A few minutes |
| Languages | English |
| Inputs | Keyboard |
| Accessibility | Color-blind friendly, Subtitles |
| Links | Steam, Homepage |
Install instructions
Unzip the .zip file and open the .exe, .app, or .x86_64 for Windows, macOS, and Ubuntu respectively. You may need security permissions to open the executable. Thanks for playing our game!
Download
Comments
Log in with itch.io to leave a comment.
would be really cool if you could assign jumping and going up to two different buttons
Nice suggestion, we'll add that in a future release. Thanks!
Amazing game! It is featured in my Week's Top 5!
Check my video!
LilyH16:
Dear Studio Heart Engine, I must say I am a big fan of this game. See, I'm from Kansas ("Down South" if you will) and the eternainment here is few and far between. I have taken to browsing itch regularly with my dear old auntie, Lily Hworpos (I'm typing for her right now as she doesn't quite understand modern technology, LOL). Now, to preface this, I must say I'm a big fan of the game. The color palettes are quite nice and very evocative of a nice, peaceful mood. However, my auntie has a few problems with it. First, she let out a horrible, ear-piercing screech when she saw the main character, whom she thought was a virus in her computer. It took her a while to convince her that I was controlling it and it was in no way a virus. However, I am till unable to convince her that the main character is a human woman, as she has no face. Maybe you could giver her just a friendly lil Kansas-style smile in an update, to appease all the other Hworpos out there ;). Also, "them ther bluck goo-lookin critters" (as she puts it) scared her half to death when we first touched it! The character's disappearance made Auntie's heart monitor pick up like crazy, so if you could "kindly cleanse them out of the pictures" (her way of saying remove them from the game) we'd be the happiest Kansans on the planet. She would also like you to have a more Christian message in the game (maybe you could replace the main character with The Christ of Nazareth, replace the goo with Judas, and change the game from a platformer to a bible-based story game?). I am only kidding, of course, that would be ridiculous, haha. I'm joking. I am kidding here. But Auntie really wanted you to consider that. If you don't, no worries, nobody's gonna be hurt, no need to be worried or call anyone haha LOL.
A big ol chimp-smile from auntie and an oven-baked homemade Kansas tthank you from me,
Annabeth and Lily Hworpos

Great platformer!! Can't wait for the steam release!
IMO the character should have a constant color scheme. Really good game.
Please let us know your thoughts on the demo so far; we're still working on the full release, and all feedback will be very helpful to the development process. We would really appreciate it if you could leave a comment or two.

Also, yes, we were inspired by Celeste for the graphics. Along with Journey, Night in the Woods, and Undertale.